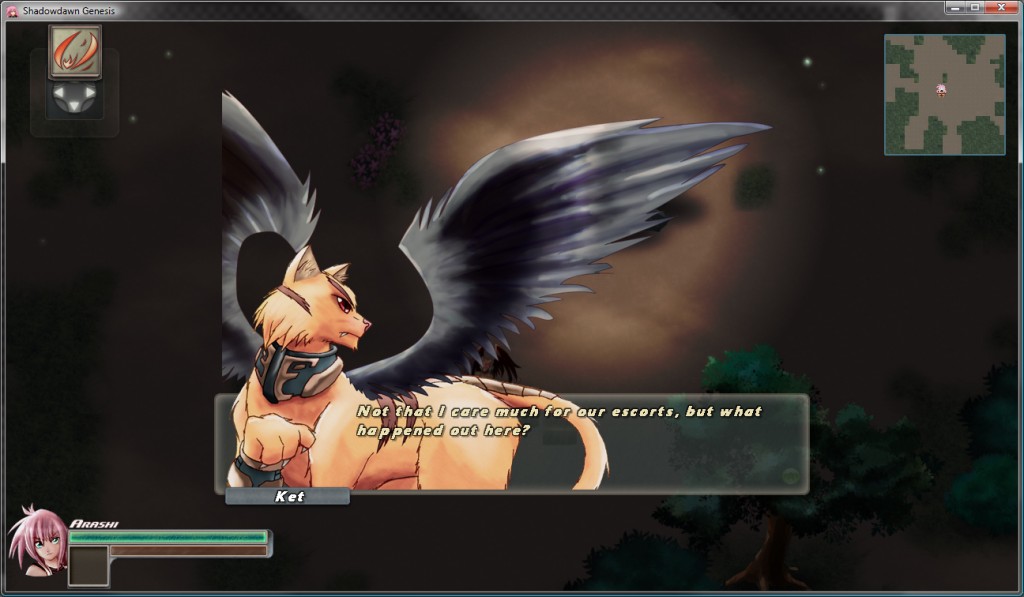 I realize that it's been a long quiet month on my blog, but I really have been getting a lot of work done; in fact I probably have accomplished more in the last month than I have the entire year.  Although the in-game character artwork is not finalized yet, just reusing my original concept assets I can show off the premise of the new UI design – every last bit down to the HP bar has been retouched and reprogrammed, with all options implemented.  Also, as a side note related to the above screenshot, I decided to eliminate the traditional RPG "frames" that surround character portraits to give a bit more exciting feel to dialog.
I finally added all functionality to the main menu barring the Skills menu, which I am coding the instant I stop posting here.  Although I've only scripted the Beginner Skill Blade Spark just for the purposes of making sure the programming and gameplay works, it does actually work and is just waiting for me to script the other skills.  For those who are interested (and since this is going on the Features page of the website soon), there will be 30 total skills Arashi can learn, though learning them all isn't going to be as easy as grinding XP.  As for other party members, I still have to see if it's viable for me to go all out with them skill-wise (this decision is based on the choice to let the player take direct control of other characters or not).  It's a huge decision as it increases my workload a lot, but for now I'm moving forward focusing on Arashi as the main playable character and leaving things open in the menus for future expansion as the game gets nearer completion.  For now, I consider the party members as more options to enhance the main character (aside from their story roles).
One last note, I realize most of my screenshots have been in the first map, but I made a decision not to move forward with other locations until all game features are implemented.  I just didn't want to stretch myself thin as I am still the sole developer on the title and wanted to know what my baseline was before really pushing the actual engine's scripting to its limits.  Since I'm at the very end of the to-do programming list as of this week (just need to implement the skill-learning system in the menus and some cleanup work), well, I'll be branching out soon.  Please look forward to it!